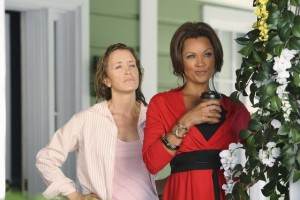 A new episode of Desperate Housewives will be airing on October 17. Below are three sneak peeks for the episode from ABC.
GABRIELLE REVEALS HER SECRET TO THE LADIES, SUSAN IS MORTIFIED TO DISCOVER THAT SHE'S BEING USED AS THE COVER MODEL IN ADS FOR THE SEXY INTERNET COMPANY SHE'S SECRETLY WORKING FOR, AND RENEE CONTINUES HER QUEST TO STEAL KEITH AWAY FROM BREE, ON ABC'S DESPERATE HOUSEWIVES.
To Read More Click Here.