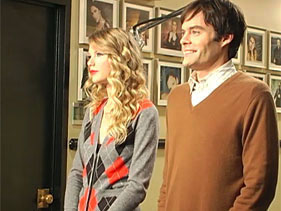 Yes, Taylor Swift will make fun of the MTV Video Music Awards infamous incident in September when Kanye West rudely interrupted her acceptance speech. A short video has been released via MTV to promote Swift's hosting duty on "Saturday Night Live" this Saturday, November 7.
Greeting the audience as the host, Swift is accompanied by the variety show's regular Bill Hader who is apparently on the phone. After Swift finishes her line, Hader says, "Whoops, Kanye West just called. He thinks Beyonce should host instead. Funny joke, right?" Swift makes no comment, only whispering to herself "Wow".
During MTV VMAs, the rapper cut short Swift's Best Female Video speech by taking over the mic and declaring "Beyonce has the best video of all time!" Beyonce Knowles, who later on won the top prize of Best Video, gave the stage to Swift to finish her speech.
The timing was right when Swift was tapped to be the host as well as the performer on "SNL" this weekend. "I told all the writers, 'Don't count anything out'," Swift told MTV. "I want to go completely, 100 percent in. I don't want to be halfway involved. Just because I have a lot of things to do as far as being musical guest and host doesn't mean I don't want to live up to my full hosting demands."
Swift began taping the skit on Monday, November 2 during when she wrote on her Twitter, "Starting the SNL process. I kinda feel like I might have a heart attack or pass out in the pitch meeting. I'm that excited."