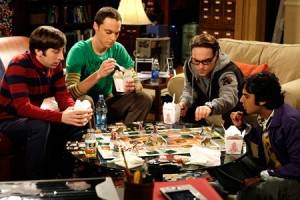 Up to this point, The Big Bang Theory doesn't seem to be covered very much here on TVOvermind, but if there's any interest from readers, I think that should change. For one thing, Jim Parsons is comedy gold. The guy adds something new and hilarious to his character week after week. Not that the other actors aren't great, too, but this show would be worth watching even if it were just The Sheldon Cooper Show.
The Big Bang Theory, which is the final half hour in CBS' 2-hour comedy block on Monday nights, frequently brings the network its highest share of the 18-49 demo, more than How I Met Your Mother and Two and a Half Men. Ratings have been very high in Season 3 at around 15 million viewers per week. So that means some of you must be watching, right?
"The Bozeman Reaction" began with the guys sitting down to eat dinner in their favorite Chinese restaurant. It has been a long time since the four of them have all hung out together, since Leonard and Howard are both in relationships now. As usual, Sheldon quickly becomes distressed by something trivial - this time it's the restaurant's updated menu. He thinks that moving General Tso's Chicken from Specialties to Chicken means that the food is not as good anymore. "Did the chef lose confidence in the dish or himself?" After he sees another dish listed as Shrimp in Mobster Sauce, he becomes convinced that the restaurant is now a front for organized crime. They decide to leave and go get a pizza instead.
To Read More Click here.