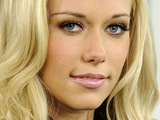 Kendra Wilkinson has revealed that her family celebrated Easter at the Playboy Mansion.
The Kendra star and husband Hank Baskett took 4-month-old son Hank Baskett IV to a party hosted by Hugh Hefner over the weekend.
"It was a huge family day and everyone brought their kids... it was like a zoo, literally!" she wrote on her official blog.
"Hank was too young for the Easter egg hunt but he was sooooo excited to pet the animals in the petting zoo. (I think I was just as excited as he was, I even got to hold a baby goat for a few minutes!)."
To Read More Click Here.