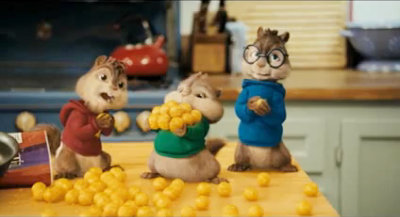 Ticketbuyers who scurried to see the smash hit "Alvin and the Chipmunks" two Christmases ago likely will want to double their pleasure with "Alvin and the Chipmunks: The Squeakquel," a frenetic but undeniably funny follow-up that offers twice the number of singing-and-dancing rodents in another seamless blend of CGI and live-action elements. The new pic comes off as more specifically kid-centric than its predecessor, but should nonetheless have similarly nostalgic appeal for baby boomers who remember the title characters as '50s novelty-record phenomena, '60s primetime cartoon stars and '80s Saturday morning TV attractions. Theatrical prospects are huge; homevid potential, humongous.
Squeakquel" picks up more or less where the 2007 "Alvin" left off, with most of the original pic's actors and vocal talents reprising their parts. Chipmunk siblings Alvin (voiced by Justin Long), Simon (Matthew Gray Gubler) and Theodore (Jesse McCartney) continue to be rock-star phenoms under the savvy management and loving guardianship of their adopted human father, Dave Seville (Jason Lee). And Alvin, ever the rambunctious show-off, still grabs the spotlight whenever he can -- even if that means often overshadowing his brothers.
Very early in the new pic, Alvin inadvertently incapacitates Dave -- a plot development reportedly necessitated by actor Lee's scheduling conflicts -- and the Chipmunks are forced to take a career hiatus. It takes a fair amount of contrivance on the part of scripters Jon Vitti, Jonathan Aibel and Glenn Berger, but the brothers wind up in the care of Dave's younger cousin Toby (Zachary Levi of TV's "Chuck"), a vidgame-obsessed slacker who's surprisingly diligent about making sure Alvin, Simon and Theodore attend high school.
To Read More Click Here.