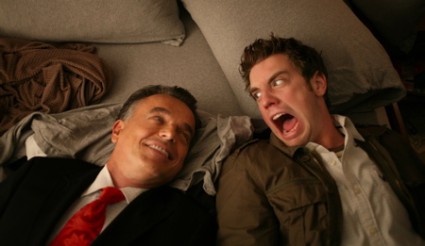 In case you don't know me or haven't read much from me here, I have this obsessive disorder where I need the TV shows I love to be wrapped up all nice-like, whether it's through a graceful end-of-run for the series, or a flat-out cancellation that leaves fans with innumerable questions of how things would have gone, had the show continued.
Starting with my interview with Defying Gravity's creator James Parriott late last year, I came to the conclusion that if you want the answers, sometimes you just need to go to the source. Since it worked so well with Defying Gravity, I went ahead and contacted the creators of another short-lived show I loved, one with its own mythos that was left very much unresolved when the cancellation hammer came down: Reaper. And, wouldn't you know it, I got most of the answers I'd been looking for.
Michele Fazekas and Tara Butters are the creators of Reaper, which only saw a measly two seasons before it was yanked from CW's programming slate. Michelle's and Tara's resumes go back some 11 years, starting off as assistants together on The X-Files, then leading into Law & Order: SVU, Reaper, and serving as consulting producers for Dollhouse. You may have also heard of their recently pilot-ordered show, Cutthroat.
To Read More Click Here.