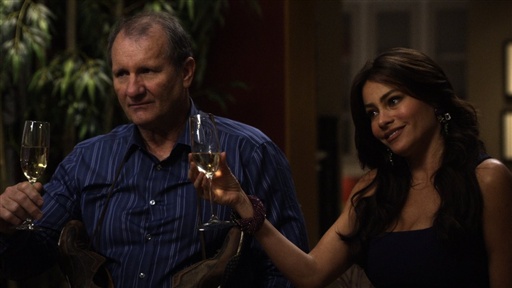 In the second episode of the second season of this Emmy Award Winning sitcom, Claire enlists Haley to meddle in Alex's romantic life while Cameron confronts Mitchell on his distaste for public displays of affection. Meanwhile, Gloria claims her dead grandmother has visited her in dreams and urged her to stay in touch with her roots by cooking traditional Colombian recipes, which spooks Manny and prompts mockery from Jay.
I'm Kara Klenk and I'm psyched to be recapping this season of Modern Family, one of the funniest shows out there, in my humble opinion.
The episode begins with Claire fishing for information on Alex's love life, the typical raised eyebrows, creepy grin, "so, any boys in the picture?" conversation we ladies have all endured with our mothers. Claire reveals in a testimonial that she "accidentally" read some flirty texts on Alex's phone and is worried it's either a boy from class or an online predator. The always precocious Alex cuts her mother off at the pass and responds to Claire's self-appointed, youthful nickname with "Yeah, don't call yourself Mommers."
To Read More Click Here.