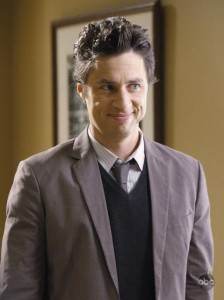 Scrubs' ninth season premieres with a double episode on December 1st. We have already posted cast photos, promos and a few sneak peeks for the premiere, but not we have 8 sneak peeks from ABC to share with you. I love the one with Antonio Sabato Jr. You'll see what I mean.
J.D. RETURNS TO SACRED HEART AS A PROFESSOR ON THE SEASON PREMIERE OF "SCRUBS"
"Our First Day of School" J.D., Turk, Drs. Cox and Kelso and Intern Denise return to Sacred Heart to teach med school, while new med students Lucy, Drew, Cole and Maya are put through the ringer on their first day of school, on the Season Premiere of "Scrubs," TUESDAY, DECEMBER 1 (9:00-9:30 p.m., ET), on the ABC Television Network.
"Scrubs" stars Zach Braff as J.D., Donald Faison as Chris Turk, John C. McGinley as Dr. Perry Cox, Eliza Coupe as Denise, Kerry Bishe as Lucy, Michael Mosley as Drew and Dave Franco as Cole.
Guest starring are Sarah Chalke as Elliot, Ken Jenkins as Dr. Kelso, Neil Flynn as the janitor, Robert Maschio as Todd, Nicky Whelan as Maya, Windell D. Middlebrooks as Captain Duncook, Steven Cragg as Lt. Underhill, Walter Addison as Ben and Holly Kaplan as the patient.
To Read More Click here.