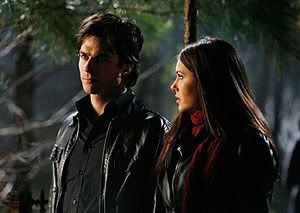 Don't fret, fang fans -- after a torturous 6-week hiatus, Vampire Diaries is finally back this Thursday on the CW (8/7c) with a brand-new episode titled "A Few Good Men." So far we already know that the upcoming episode will reveal a new vamp in town, Harper, played by Sterling Sulieman, and that Elena won't quit dragging Jenna and Stefan on a seemingly endless quest to uncover the truth about her birth mother. Whether or not she can actually handle the truth is another question entirely. Oh, and of course something interesting is bound to ensue when Damon participates in a fund-raising bachelor auction, but luckily we won't have to wait too much longer to find out for ourselves!
Just in case your memory of the last episode ("Fool Me Once") is too hazy and cobwebby to accurately rely on (hey, it's been a long break), here's a teeny refresher. For one, it was quite the tearjerker (RIP Grams!). While we're certainly sad to see the show's resident witch go, some fans are saying it's for the best. After all, with limitless powers on your hands, it's a little too easy to simply make the necessary drama disappear with just a single spell. And let's face it -- that's no fun. Peace, Grams.
As far as Damon is concerned (except for his upcoming money-making bachelor status that is), it was pretty hard not to sympathize with him when he learned the rough truth about Katherine. True, he's the bad guy on campus, but could it be that we're slowly starting to peel back his ruthless layers and find out that he actually might be more than just the manipulative killing machine he's been made out to be?
On the flip side, Stefan is starting to show more ruthless tendencies. Sure, it could just be his protectiveness over the Gilbert family, but his recent violent streak is starting to hint at a darker side that has yet to be fully revealed.
If you missed the last episode and want to get caught up in time for Thursday's big return, watch it here!