We need to talk about last night's So You Think You Can Dance and we need to talk about Evan (and I suppose Katie Holmes as well...)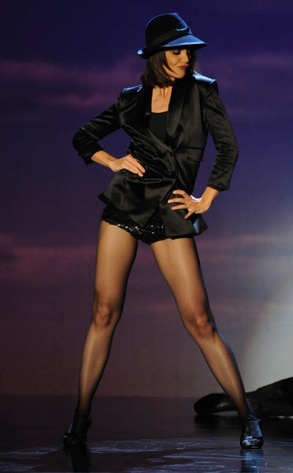 Spoilers Included
Last night was the Big 100th episode, which gave us a few non standard components to the results show, including revisiting old performances (which, beyond the group number "Ramalama", I might have chosen differently...) and the very-much-hyped-but-nobody-really-cared-about performance by Katie Holmes, "one of the biggest stars of the silver screen" (good one, Cat Deeley, you crack me up!).
Since Holmes was doing the whole thing for charity, I don't think it's fully necessary to pan her performance, but yeah, it was...unmemorable (and prerecorded at that). If you like pain (just kidding), you can watch the Holmes performance over on E!Online.
Now onto the results!
Disappointments on both fronts. On the female end, much as I love 'em...I think it was time for either Kayla or Melissa to go. Jeanine and Janette are/were the 2 best females, so for Janette to be in the bottom and to now be...gone...was an injustice.
Perhaps things were best said by Nigel:
"Janette, you were my favorite, too. I really wanted you to win this year...It's ruined this 100th celebration for me, to be honest. I think you're absolutely fantastic, and I'm really sorry to lose you. I think America got it wrong."
Then on the male end, Jason was really starting to grow on me, so while I don't think he was going to win, I was kind of sad to see him go. But...what irks me most of all is Evan's magical ability to escape the bottom 2 every single week. Evan is a talented and likable guy, but objectively, he is not as good as some of the other top guys. The judges know it - and hint at it frequently - yet Evan seems to have some sort of magical powers, presumably with young female voters - that makes him impervious to the Bottom on a weekly basis.
What did you all think of this week's SYTYCD results? Are you too getting annoyed about Evan, or are you the people that are happily voting for him each week?