Buffy The Vampire Slayer - Buffy Summers
Buffy may have been little, but she sure was mighty! So yeah, the girl may have gotten a little help from her Slayer strength, but it was not just Buffy's strength, but her smarts and gusto that made her such an awesome butt-kicking babe. Stopping an apocalypse? No problemo! Also loved how the girl was never too proud to accept a little help from her friends, who as the series progressed, also became key in stopping evil many times over.
Alias - Sydney Bristow
I don't think I've ever seen more convincing fight scenes than in an episode of Alias. Sydney Bristow, for me, was like the female Jack Bauer (24). Put plainly, she was a butt-kicking babe. I'd want her by my side in a dangerous situation before any dude. Loved how the resourceful Bristow would use everything in sight to supplement her fight (from furniture to kitchen supplies)...all while wearing the coolest (and hottest) disguises you've ever seen on TV.
Terminator: The Sarah Connor Chronicles - Sarah Connor and Cameron
So it might be the guy - John Connor - that saves the world in the future, but in the present, thank god that kid is surrounded by not one, but two butt kicking babes, or I'm not so sure he'd make it to the future to save us all! He's got his mother, Sarah Connor, who you have to admit, is pretty frackin' awesome. She has no superpowers, yet emits a feeling of strength and cool. And...in the event that John's mother can't save him all of the time, throw on in Cameron, who is kinda programmed to be a butt kicking babe, since she is after all a Terminator. But...Cameron does it with humor and heart, so we won't hold the advantage against her!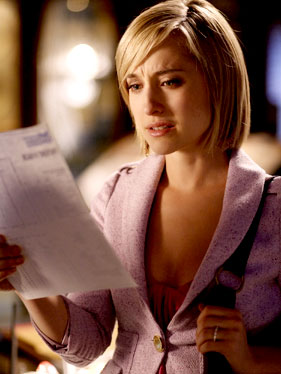 Smallville - Lois Lane and Chloe Sullivan
Guess we're going to have 11 butt-kicking babes, as I am selecting 2 from Smallville as well. I got sick of Lana Lang on Smallville for many reasons, but the primary one was probably...how many times are you going to get yourself into a situation of grave danger so that Clark has to rescue you? While cousins Lois and Chloe have both had their fair share of "getting rescued by Clark" moments as well, they are decidedly more capable of taking care of themselves. Chloe's got some meteor-related abilities that help her out, but even before realizing those, always used her innate smarts to assist in a situation. Lois, too, has always been a smart, confident woman, and with her father's military background, is definitely capable of some self-defense. And...the two combined have some pretty butt-kicking journalistic and investigative skills.
So...who are your favorite butt-kicking babes?