IGN.com Advance Review:
Gather round Grandma's hoopskirts, little ones, while she tells you the story of Melrose Place, the world's greatest primetime soap opera.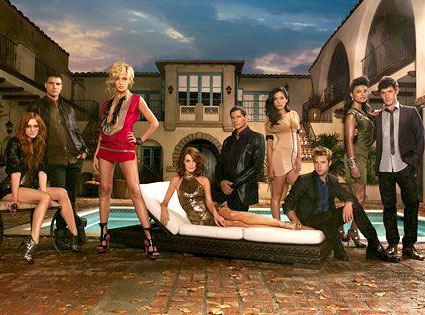 A glittery, Spanish-tiled universe where pure-hearted innocents were forced to coexist with the morally reprehensible. Where the best way to do away with a problem was to run it over repeatedly with your car. Where...
Or hell, you could just watch The CW's new remake which, I'm happy to report, captures the depraved spirit of the original series to fine effect. While all the drama seems a little quainter this time around (15 years ages a show), the elements that made Melrose Place such a delicious guilty pleasure back in the '90s are all still here. Fans of the original and new audiences looking for entertainment won't find their time wasted by tuning in -- the new 90210, this ain't.
Warning -- the following paragraph contains a plot spoiler (albeit one that occurs only a few minutes into the show), so if you're trying to keep yourself completely untarnished, skip over it.
The pilot episode takes place over the course of one day and revolves around the murder of a returning cast member, Sydney Andrews (played with familiar little-girl-lost venom by Laura Leighton), now the building's landlord. By the end of the first act Sydney has turned up dead in the courtyard pool, bringing the half-dozen residents of the Melrose Place apartments together to ponder the mystery of her murder. Multiple characters have a motive -- was it a passion play? An act of revenge? A forced hand?
Do we even care? The real fun here can be found in the same elements that made the original show so great: over-the-top plot twists, outrageous characters, and absurd situations handled with dead seriousness and set to a top-40 soundtrack. Truth be told, it's a relief to watch a current soap that isn't all winky-winky, ironic self-consciousness. We might giggle at it, but we're also not constantly being reminded of how ridiculous we are for watching it.
Main characters include longtime couple Jonah (Michael Rady) and Riley (Jessica Lucas), who live together and are pondering whether or not to take the next big step. They're so annoyingly cute (he wears a porkpie hat; she carries around a yoga mat) that watching their relationship go down in an inevitable hail of gunfire is going to be a lot of fun. Too bad the writers took the no-brainer route by making Jonah a wannabe filmmaker trying not to compromise his integrity -- a classic Hollywood story arc we've seen many times before.
Read More:
IGN.com Melrose Place: "Pilot" Review
Photo courtesy of eonline.com