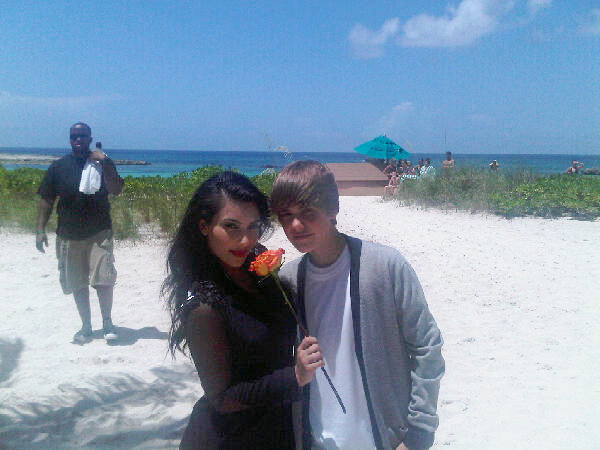 Things might be getting nastier for Kim Kardashian. The "Keeping Up with the Kardashians" star, who in early May received "death threats" from Justin Bieber's worshipers for posting a picture of her and the pop sensation and being called "my girlfriend" by him, has teamed up with the "Baby" hitmaker in a photo shoot in which they held hands and splashed around in the sea.
At the photo shoot, Kardashian and Bieber were seen clowning around together as they enjoyed the beautiful ocean at The Cove Resort at Atlantis, Paradise Island, Bahamas on Sunday, June 13. In one shot, Kardashian was spotted splashing Bieber with water, while visitors were enjoying their intimate activity.
Kim hinted about the photo shoot on her Twitter page, writing "Can u guess who I'm in the Bahamas with???," and posted a silhouette of two people on a balcony. Bieber later announced the news on his Twitter page, writing "Photoshoot on the beach.... ummmm yeah. I told her to watch out... I love my fans," with Kim responding "Photoshoot on the beach....ummmm yeah."
Getting Bieber's fans even more jealous, earlier that day, Kardashian boasted that she had a chance to mess up Bieber's signature hair. With message read "My dream! I messed up @JustinBieber 's hair!!!!!", the 29-year-old beauty posted a photo showing her fiddling with Bieber's hair.