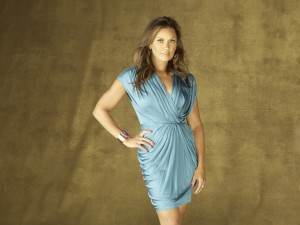 Desperate Housewives took a break from the heavy laden "baby swap" story line by focusing on establishing Vanessa Williams's Renee Perry and dropping a grenade on the Paul Young mystery. That guy needs to be tranquilized and locked in an asylum somewhere.
Wisteria Lane Divas Smackdown 2010: Second Match – Gaby vs. Renee
I died when Renee punched the hell out of Gaby in the nightclub. I couldn't wait to see how the two ladies got there and when I found out, I was feeling kind of… blah. Yeah, we finally got to meet Renee's husband Doug, but other than that introduction, the only funny/interesting thing about the whole incident was the actual fight itself. Although, we did learn how far Renee will go to get whatever she wants by sleeping with her husband's lawyer. Low blow there, in my opinion. Plus, I wonder if this is the last we have seen of Doug Perry. I am glad that the ladies did bury the hatchet, and managed to let bygones be bygones. Maybe Bravo's Real Housewives should take a lesson from the ladies of Wisteria Lane.
To Read More Click Here.