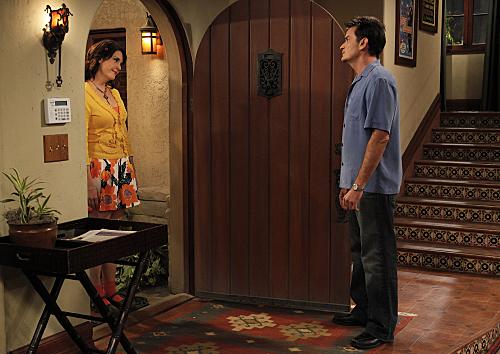 You would think all the controversy surrounding Charlie Sheen in the celebrity gossip world would some how affect me watching Two and a Half Men.  But then you realize you're watching a show about a womanizing alcoholic who hires prostitutes on the show nearly weekly.
So really?  What respectable Two and a Half Men fan could complain about Sheen's crazy night out with an escort while sleeping next door to his kids.  That's our Charlie.  We're done rambling about real world Charlie, and ready to head back to the fictional one.
On this week's episode, "The Crazy Bitch Gazette," we finally got the much anticipated return of Rose (Melanie Lynskey) in a big way.  Rose not only served as the catalyst to break up Michelle and Charlie, but she even used an elaborate, hilarious fake wedding to possibly win over her stalkee's heart.
So did the episode live up to the hype in our heads?
Absolutely.  As we fought and complained last year, Charlie in a relationship for more than an episode or two is no good.  Who better to return him to single state than his lovely stalker?
To Read More Click Here.