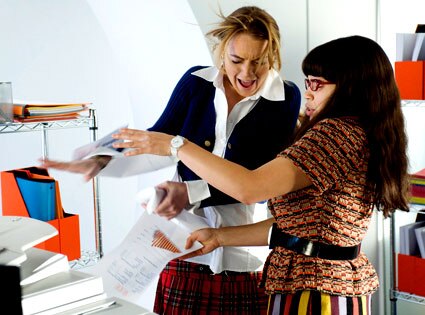 Lindsay Lohan may be making an Ugly Betty guest appearance tonight, but don't get too used to it.
Though Lindsay was scheduled to appear in 2 additional Betty episodes...she has reportedly been cut from the series; one final appearance that has already been recorded will air next Thursday.
Says a source from the show, "She was not so interested in creating a character. She was more interested in just playing herself, and that doesn't work on a show like this with such heightened reality."
E!Online also addresses additional rumors of set hijinks from Lindsay that may or may not have contributed to her early dismissal:
Lindsay Lohan Booted From Betty
Watch a preview of Lindsay on Betty tonight - Betty Sneak Peak
So what do you think? Happy she's gone early? Or think Lindsay was doing well on the show?