Kourtney and Khloe Take Miami is mindless, shameless, and well worth watching.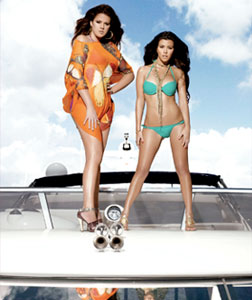 By Troy Patterson from Slate Magazine
In these days of pseudo-celebrity and rampant vapidity, of self-objectification and professional narcissism, of commodified sex and degraded love on every channel-in these days of what a friend terms the death of culture-it is healthy every now and then to cry uncle, sit back, and appreciate the mindless pleasures that the apocalypse has to offer. In such a spirit of giggling capitulation do I recommend Kourtney and Khloe Take Miami (E!, Sundays at 10 p.m. ET), a reality show about frivolity, sorority, and the bikini bottoms of South Beach.
Read the rest: Self-Promotion on the Beach