The premiere of Heroes is only a few short weeks away, and since the finale left us with so many questions, we thought we'd turn to the cast to get some answers, especially since season three and four's storylines are so similar. "It feels like one long run-on season," Hayden Panettiere tells us.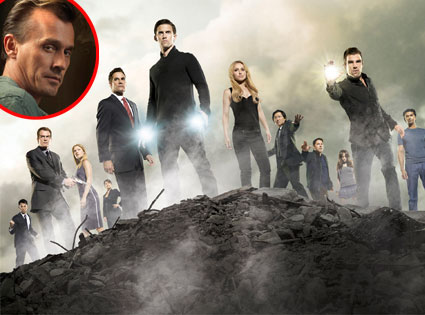 So who's the new band of characters coming from the carnival? Who's dying? Whose love story causes its star to shrug coyly at us? And what's the scoop on what's likely to be the hottest triangle we've ever seen on television? We have your answers...
The Triangle Twist: It's not quite the love triangle you're looking for, but more of a bromance. Adrian Pasdar tells us what he loves about Redemption: "The whole premise of Zachary [Quinto], myself and Greg [Grunberg] having an interesting triangle of behavior. In the process of Matt crushing Sylar and having my body become his, Sylar entered Matt, so there's a soul that's missing in me. It's my own Nathan behavior that's manifesting itself through Sylar. There's a triangle that makes itself clear by the third episode."
Sylar and Matt: So let's take a look at all sides of the triangle, kicking off with the man who destroyed Sylar. Sadly, it just didn't go over well. "When I did the mind transfer, it didn't go clean," says Greg. "Some of him stayed in me and he needs me. He's looking for his body, he needs his body back and he'll do anything to do that, including kidnapping my son." Of course when you've got a bad man in you, he's going to make you do bad things. "He's kind of hanging around in my subconscious, making me do things that I don't want to do. I have to catch myself. I can't get rid of him, so I decide to ignore him. But you can't ignore Sylar for very long."
Sylar and Nathan: Moving on to the part of the triangle that's actually sharing a body, Pasdar says he's been working on picking up Quinto's mannerisms. Don't expect everyone to be in the dark about Nathan's true identity for long, though. Says Adrian, "I think it's clear from the outset of season four that something is going on, least of all to Nathan. He doesn't become aware of it. I think he's a step behind the audience. There's just a split second for him in terms of understanding where he's going and what might be wrong. He catches up though."
Claire Goes Girl: We can't talk about a triangle without mentioning the real action this season. Claire has a new roomie in Californication's Madeleine Zima. "It's a very interesting relationship," says Hayden. "She hasn't really had a relationship with someone that close - as a friend or anything else - since first season with her friend Zach (Thomas Dekker). So it's a relationship I think that people are going to love and love to see us together. It's a very interesting dynamic between the two of them." As far as what Claire gets out of the friendship, Hayden tells us, "She gets a friend, a confidant, somebody she can confide in and not be alone with her secret and just be herself, somebody to help her along and be her buddy and her pal." It turns romantic though, right? To which Hayden gave us a coy shrug, followed by admitting, "Yes, I did a coy shrug."
The Big Bad Carnival: What's a season of Heroes without some sinister force lurking out there? Hayden teases, "Carnival is the opposite of what the Company was. The Company wanted to hide us and our abilities. They wanted to keep it under wraps. The Carnival is the opposite where they want people to know about it." However, don't jump to conclusions whether they're good or evil just yet. "Just when you think it's safe, it's not. Just when you think it's evil, it turns out that we need them more than they need us," spills Greg. And as for the leader of the gang, Samuel (Robert Knepper), James Kyson Lee says he just as bad as T-Bag from Prison Break: "I think so, but even more interesting."
Need Some Romance? Speaking of Ando, he and Hiro (Masi Oka) are going into business this season. Says James, "Ando and Hiro are going to start up a new business venture. It's going to keep us busy. Sept. 21 you will see a huge billboard. I am for hire, romance for hire." Sadly, don't expect the usual Hiro and Ando shenanigans because one of them is not long for life. Spills James, "Hiro has a bucket list because he's dying. Ando is trying to change that, but we'll see. There's a whole theme of 'Can you really mess with fate?' in our show. Sometimes you can change history, sometimes you can't."
Out of the new storylines listed above, which are you most looking forward to? Sound off in the comments and add a memorial for our soon-to-be departed Hiro. Sniff.