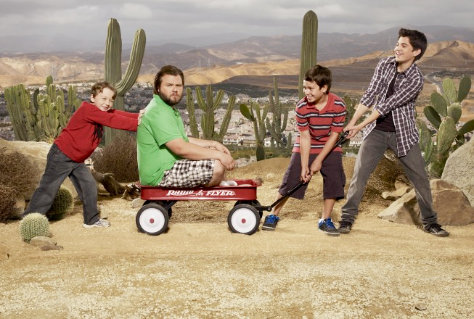 I'm very excited to tell you all about a show premiering on Fox tomorrow, March 14th, called "Sons of Tucson". Think 'Bad Santa' meets 'Malcom In The Middle'.
The plot of the show is simple, Rob Snuffkin (played by Tyler Labine) is a 30s something loser that works as a clerk in a sporting goods shop. He lives in his car, owes bad people money, and as my great grandmother use to say, "doesn't have his S$&t together"). Although you may think that Ron sounds like a complete mess (and he is), he's also very likeable. His acting style and overall presence reminds me of Jack Black. But, not in a "This guy sucks he's just trying to be like Jack Black" sort of way, he's more in the variety of "this guy is hilarious, you know, he's a lot like Jack Black" .
Ron's life is forever changed when he meets 3 boys looking for a father (Robby, Gary, and Brandon). Their single father was a rich banker who was put in prison for running a ponzi scheme and rather than be placed into foster care, they ran away from home in New Jersey to Tucson Arizona. They have almost everything they need to get by: a nice house, lots of money, but without a parent they can't enroll in school or fit in to normal society.
To Read More Click Here