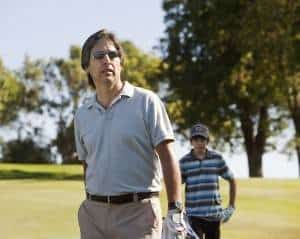 Last night on MOACA, the theme for our Three Musketeers was character, which was given to us on various levels that I labeled them: heartwarming, understandable, and a complete a waste of one character's time. But as a whole, the episode worked well by showing the guys taking control of their lives for once instead of letting things crumble, bitch, or just gestate around them. So without further adieu, here is the recap for "Mind's Eye".
The Set Up
Joe
After golfing with his son Albert, Joe is shocked to hear his son asking about the Mile High Club. While Joe stutters around the subject, Albert is already hipped to the game and deduces that it means sex. Joe is then confused when Albert says he didn't get on the bus when Joe dropped him off for a field trip, which makes Joe worry about Albert's mind state when Albert doesn't give a good coherent reason why.
Terry
Terry's boss, Dave, asks for Terry's assistance in helping him sell a family home by acting as a really interested potential buyer. Terry doesn't want to do it, but he eventually relents and agrees to the "job". When Terry gets to the location (late as hell, mind you), Dave shows Terry the other actor who is in attendance, who is actually an actress named Erica (special guest star Cynthia Watros), who is also playing a decoy buyer. Terry asks for Dave's wedding ring and slips it on. He then makes his way to Erica, who is talking to other buyers, and introduces himself as Erica's "husband". She catches on to the ruse and plays along. Slick!!!
To Read More Click Here