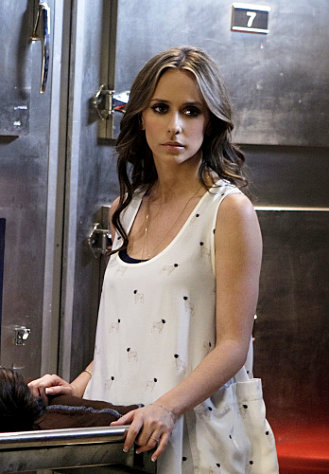 Labeled as "the scariest episode yet", the October 16 episode of "Ghost Whisperer" is going inside a haunted hospital. Melinda investigates a haunting at the Grandview Hospital's morgue involving the death of a surgeon.
Dr. Charles died in the '50s out of heart attack but his spirit is trapped in the earth. The ghost is haunting the hospital where he constantly repeats the same last surgery he was performing at the time of his death.
There's also Bill who is in his mid 60s, happily living his life after having a lethal hole in his heart repaired 50 years back. He inspires his teenage grandson Paul who spends 15 minutes in the hospital morgue drawer just to prove that he is a tough kid to his friends. When he hears of his beloved grandpa Bill's past ordeal, Paul finds the strength to abandon his gangsta persona and live life on his own terms.
On another side, Delia is on a first date with a man named Roger who berates the Maitre D' when he spills wine on Delia. Someone is also leaving Delia a message through a mime.
To Watch The Preview Click Here.