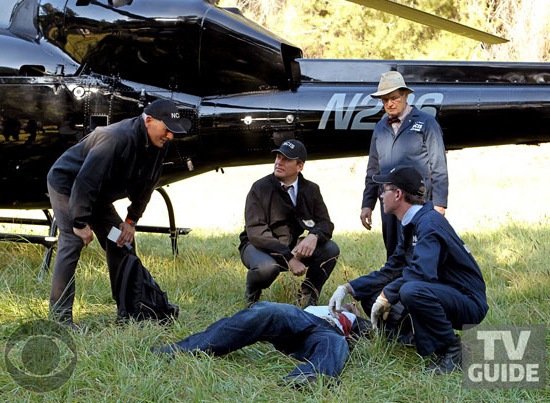 Remember the series My Three Sons? It's looking like Season 8 of NCIS could be subtitled Our Three Fathers. Not only did the kickoff to the season center around Gibbs Sr. aka Ralph Waite - but teasers were pointedly offered for the imminent returns of DiNozzo Sr. and Ziva Sr. Perhaps the theme music could be temporarily replaced with a nice chorus of that old John Hiatt song, "Your Dad Did."
Waite - now Pa not to the Waltons, but to Mark Harmon's Gibbs - figured heavily in the kickoff episode's predictable opening and less predictable ending. When Season 7 left off, a foxy female Mexican drug lord had just entered his small-town shop to dole out some vengeance for his son's vengeance killing of her own dad. But father knows best when it comes to wielding a rifle and then retreating to a cellar to escape a hail of machine gun fire. Heavy on bullets, light on surprise, there. Of course, Paloma Reynosa (Jacqueline Obradors) and her unctuous brother Alejandro Rivera (Marco Sanchez) - the creepiest sibling duo since the Jolies - had no more desire than before to let bygones be bygones. And so, as suggested by the episode's "Spider and the Fly" title, the still-murderous bro and sis were led into a trap of Gibbs Jr.'s devising.
To Read More Click Here.