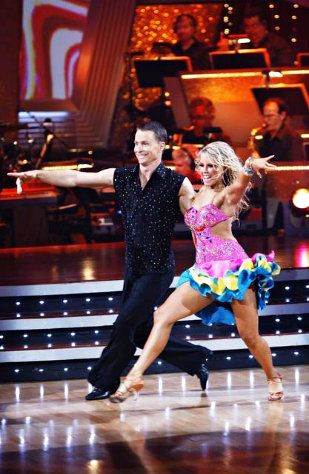 "Dancing with the Stars" May 12 result show determines which couple go on to the final 3 round. Between Ty Murray and Melissa Rycroft, audience chose the former to leave the dance floor and let the "The Bachelor" contestant compete next week.
Both Ty and Melissa were not necessarily on the bottom two but they were not the top scorer based on the judges' score on Monday. Gilles Marini scored a perfect 60 out of 60 while Shawn Johnson scored 56 out of 60. Melissa was slightly under Shawn with 55 out of 60 while Ty scored the lowest with 48 out of 60.
Ty's elimination was on a happy tone for he had exceeded the expectation by being in the final four. Last week, he beat judges favorite Lil' Kim in taking the last spot in Top 4, thanks to the loyal fan base that vote him each week. Ty gave a speech on the result show, saying that he could not identify what his mistake in dancing but he was always doing his best.
In the interview with hosts Tom Bergeron and Samantha Harris, he said, "I got a whole new respect to what these guys do. Trying to teach me to dance is trying to teach a blind guy to paint. I just try to remember the steps."
The filler of the night includes a performance by Raphael Saadiq and an encore dance of Shawn Johnson and Mark Ballas' Argentine Tango that got the perfect 30. There were also interviews with past "DWTS" winners such as Drew Lachey, Brooke Burke and Helio Castroneves.
In the progress of the professional dancers competition, two were left standing. Mayo Alanen and Anna Demidove were required to choreograph a ballroom and a Latin style dance with Kym Johnson and Maksim Chmerkovskiy respectively. Mayo did a Tango and Cha cha cha while Anna did Quickstep and Samba.