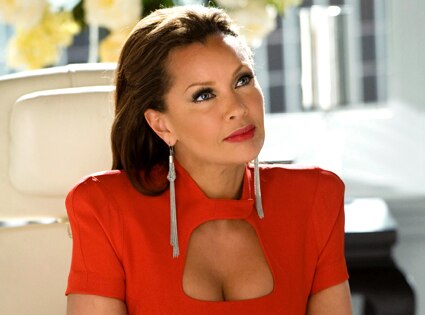 Ugly Betty is back better than ever this Thursday with kidnapping, blackmail, baby drama and even a wedding and a possible funeral in store for the final five eps of the season.
First up on tomorrow night's "Rabbit Test" episode, Wilhelmina Slater (Vanessa Williams) finds out that she may not be the biological mother of baby William. For those not keeping up, here's the deal: Wilhelmina's egg and publishing king Bradford Meade's sperm were implanted into surrogate Christina McKinney (the seamstress) to produce the golden child of publishing and help secure the diva's standing in the company. Oh, and the baby was delivered on a runway!
"That's what she thought happened," Vanessa tells us, "but it turns out that it's not what it appears. And it jeopardizes Wilhelmina's standing at the company, and her livelihood is at stake. But she is a fighter, and she will continue to hold her ground and stay at the top no matter what threats are made and what consequences happen."
Read on if you don't mind a few spoilers, but if you do, then the buck stops here for you.
More baby drama ensues as little William gets kidnapped in the next episode, "The Born Identity," on May 7. "That gets resolved rather quickly," says Vanessa. "It goes in a different direction, and she doesn't end up being a mommy for long."
With her baby problems aside, it's back to what Wilhelmina knows best: conniving, blackmailing and jockeying for position. "My next blackmail up is Claire Meade," says Vanessa. "Yes, it's back to Claire again. I get more dish on her. The angles in which [my character] tries to deceive and connive are hilarious and funny, and the situations that she puts herself into are outside the box. There is a scene where she sings with Christine Baranski's character [Yes, Christine is back for more eps as Matt's mother...the same Matt who's Betty's boyfriend!] while fishing for information from her."
In "In the Stars" on May 14, two wedding proposals are made, but only one is seen to fruition. "Betty and Matt are not the ones walking down the aisle, though Matt is in the finale. And, it's not Hilda and Archie," says Vanessa. That, of course leaves Daniel Meade and his cancer-stricken girlfriend, Molly. "That's right," she says, "and I can tell you that Adele sings at the wedding."
With rumors swirling that Molly loses her battle to cancer, one can only think that the new bride kicks the bucket after the wedding. "I can't tell you everything," says Vanessa. "She does get very sick."
Along with Adele, other upcoming guests on these episodes include tennis queen Billie Jean King (who plays tennis with Christine Baranski's character) and The View's Joy Behar and Elisabeth Hasselbeck (who have Daniel Meade on the show in part two of the two-part finale, "Curveball," on May 21).
Are you as happy as we are that Ugly Betty is back and better than ever? Sound off in the comments below.