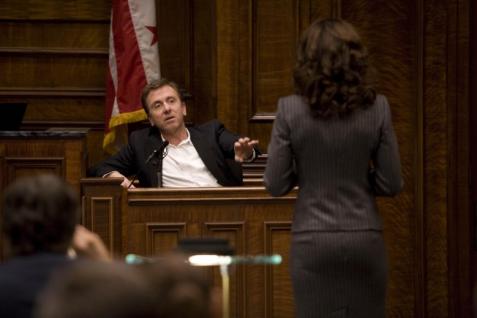 On "The Whole Truth," we started with Cal working against his ex-wife Zoe - and ended with them both on the same side.
This episode showed a very unusual side of Lightman. We discovered that he really enjoys being on a witness stand. I do not think I have seen the character smile as much in all of season two as he did when he was up there. It almost seemed that Cal got a little juiced on the stand, like he was performing for a crowd more than being questioned by a lawyer.
It was awesomely written and beautifully acted by Tim Roth (ok, I admit I might have a little man-crush on Tim. But, he is awesome, who wouldn't?).
We also got to see some great banter between Eli and Tia that was fun to watch. Clearly there is some attraction going on between these two and this talk showed how Eli was quick to be a little jealous and a lot curious about Tia's romantic/sexual history. Elsewhere, the conversations between Zoe and Cal were well done. In the end, we found out that Cal was doing all of this to protect Zoe, which was both touching and sweet.
We can easily see how these two must have been when they were married.
To Read More Click Here.