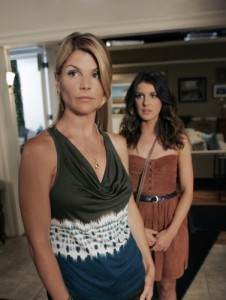 In this week's episode the boys of Beverly Hills agree to a charity auction for Silver's breast cancer fundraiser while Annie learns a secret about her new boyfriend and Dixon learns a secret about his former girlfriend.
Silver is throwing a fundraiser for breast cancer research in memory of her mother and has managed to get the boys of Beverly Hills to agree to be auctioned off as dates in the name of charity. Making them feel even more ridiculous, Silver has enlisted the help of Ian (Teddy's fling from last week) to choreograph a group dance routine. Although, it appears the dance was less dance and more like a Chippendale's act. At first Teddy responds eagerly to the suggestion to dance attempting to get into the good graces of Silver, but when Ian tries to instruct him to circle his hips a bit more, Teddy takes it personal and spews a homophobic barb at him. He went all Mel Gibson as Ivy put it. In the end, it is Teddy's denial and fear about what happened that night with Ian that ends up breaking he and Silver apart and also lands him in two weeks detention with Ian for fighting. Will this be a Breakfast Club bonding session for the boys?
To Read More Click Here.