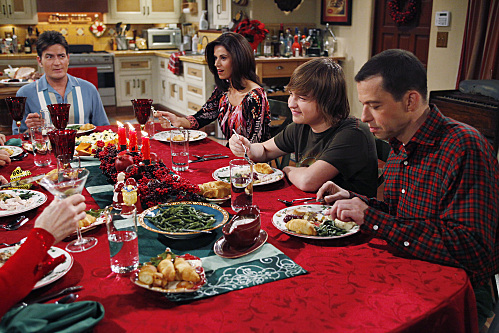 The holidays are a time for family and reflection and cheer. Unless you're the Harper family and gathering in Malibu becomes a test to see who can screw up each others' life more. This was an interesting Christmas get together, especially with the guest visit from Marty Pepper, sitcom king. Was it the ultimate inside joke that everything passing before Marty's eyes was fodder for a TV show? Yes, I think so. At the end of the show, the final credit was "A Marty Pepper Production."
For more on Marty and Charlie's trouble making antics, read on.
There's little doubt in my mind that Charlie might not make it to the June wedding. He's chaffing at the collar to stray, like a dog in heat. What else can be made of his trying to live vicariously through Jake? Has it really come to this, that Charlie's getting excited about the prospect of Jake cheating on Celeste with a girl he met on the beach just because he can't do it himself? Jake would have preferred a couple of corn dogs to a couple of girls, and in the end wound up with neither. "Uncle Charlie, you really suck, you know that." That said it all.
To Read More Click Here.