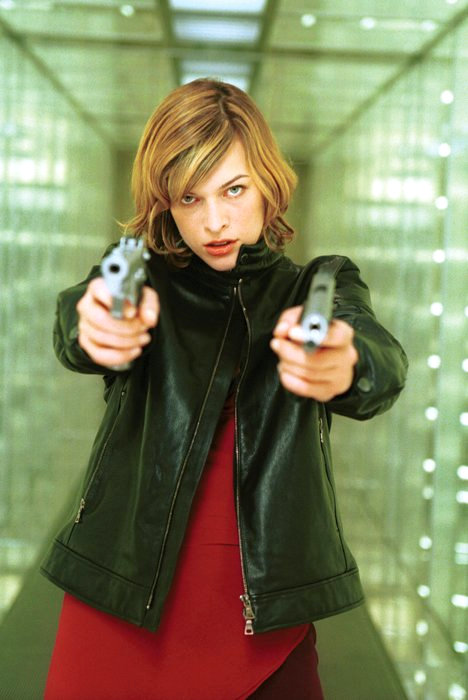 Little details related to "Resident Evil: Afterlife" have been laid bare by its leading lady Milla Jovovich. At the press day for "A Perfect Getaway" over the weekend, the actress who plays action heroine Alice in the series opened up to Bloody-Disgusting about what to expect from the fourth installment, including hints on plot and who the studio brings in to work on the 3-D.
"I'm the lead role [again]," the 33-year-old first revealed on her involvement, before teasing on the plot. "There's the clones and it's going to be a lot of work. I'm gonna be working every day for the next four months on this and it's gonna be bigger than ever. It's super-exciting." Providing a little bit more information on the clones, she elaborated, "Let's just say this. The clones are definitely in it."
"You've got multiple Alice's kicking serious butt," the fiancee of director Paul W. S. Anderson added. "And definitely the real Alice has some pretty major things happen to her that change the stakes a little bit. That's probably all I can give you in a vague sort of way. It's definitely going to be a different Alice than who we're used to."
On the 3-D crew, Jovovich noted that Anderson will work together with the team who did the 3-D work on James Cameron's "Avatar". "I have no idea about the 3-D process," she said. "Paul just signed a deal with the people Cameron used on AVATAR because they impressed him the most. [Paul] has basically seen like every 3-D movie ever made in the last two months to prepare for it."
"We're definitely using all the best equipment. All the storyboards are centered around how to make the 3-D the best it can be," she gushed more on the 3-D work. "We're really trying to use that medium to its fullest."
Back in late 2008, "Resident Evil" director Paul W. S. Anderson has told IGN that he is writing another installment of "Resident Evil" franchise. At the time, he won't hint on whether the fourth film would center on Milla Jovovich's Alice or Ali Larter's Claire Redfield. Though many details are still kept under tight wraps, words are, the story will shift to Tokyo, Japan. Screen Gems has set it to hit U.S. theaters September 17, 2010.