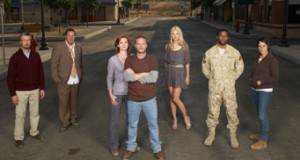 If you missed last week's premier of Persons Unknown, check out my review here.
This week's episode, "The Edge," begins on the interior of one of the empty hotel rooms. The blinds rise mechanically as the camera zooms out to the town square. Cut to the hotel lobby where Joe is lying face-down on the bar. Moira (who is evidently a surgeon, too) is removing the biometric implant embedded in Joe's leg. Without anesthetic, and witha lot of screaming, Moira successfully removes the implants from all of the Captives (does this moniker work for everyone?). With the devices removed, Joe and McNair try to test the border of the town. With Joe tied to a rope so he can be pulled back from any possible danger, Joe walks past the point he previously collapsed. While he marks out the extending border, Janet takes a private second to reread her fortune, "Kill your neighbor and you will be free." The prospect of having to do the unthinkable, spooks Janet so she makes a break for it. She runs past McNair and Joe until she frozen in her tracks by some kind of invisible fence. Moreover, this fence seems to be burning her flesh. She falls.
To Read More Click Here.