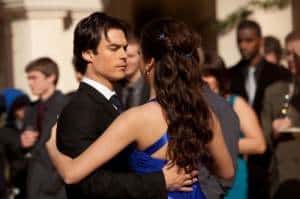 Beauty and the Beast' was the theme on last night's Vampire Diaries as we saw the return of Bonnie (YAY!), more snooping from Jon Gilbert (BOOO!!!), and the seeds being laid for a Delena pairing. Oh and Stefan is up under the wagon now.
The Set Up
Stefan arrives at school with a new swag in his step. Everyone notices it, even Elena, who Stefan eases with news of him being back on the wagon. But it's a bold faced lie as Stefan goes to his trunk (after sending Elena off, of course) where he has packs of blood stored like a bagged lunch. So sad...
Damon has a meeting with Sheriff Forbes and Jon Gilbert, who reveal that the Mystic Falls Blood Bank was hit hard, which explains the blood bags in Stefan's car. Jon suggests that he and Damon work on the case. Of course, Damon is not thrilled about this pairing.
To Read More Click Here.