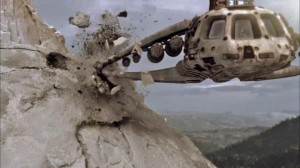 SGU gave us a double tap to the face with two revelations tonight. Bear with me while I bandage my face from the onslaught I just endured...
The Keys to Destiny's Command
Rush awakes from a nightmare of Lucian Alliance torture. He goes to the console room, where he berates Dr. Park before going on a walk. Said walk leads him to a door, where he cautiously enters a code and the door opens to reveal...
The bridge of the ship.
As Rush marvels at his newfound discovery, he's accompanied by an apparition of his dead wife Gloria, who pretty much says what's on Rush's (and the audiences) mind.
''You're not going tell anyone... are you?
Son of ...
Rush begins to speculate that the Destiny has some greater purpose than what he originally thought. Gloria entertains, and sometimes counters, Rush's thoughts, which drives the good doctor mad. He also wonders that since he can can control the ship now, if he can stop it at any time and access planets that the ship would deem not worthy of their time. He does this and drops the Destiny out of FTL, leaving the other scientists perplexed since they don't have a clue Rush is behind the controls.
To Read More Click Here.