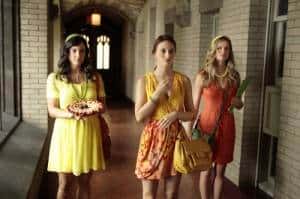 Gossip Girl targets Serena on the October 11 new episode of the show. We've already posted promo photos and now we have a trailer and sneak peek from the CW for you to watch below.
A GOSSIP GIRL BLAST STRIKES OUT AGAINST SERENA.
An anonymous Gossip Girl blast starts a very damaging rumor about one of Columbia's new students, Serena (Blake Lively). On her path to greatness, Blair (Leighton Meester) decides to take a class with a powerful businesswoman, Martha (guest star Marilyne Barrett), who is guest-lecturing at Columbia, but a mysterious fellow student thwarts her plans to secure the prized position as Martha's assistant.