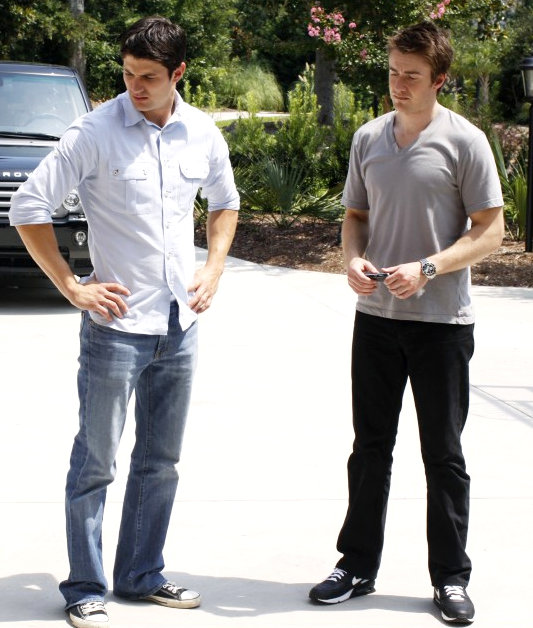 After last week's revealing episode, we were treated to a much more light-hearted hour this time around. The boys went camping, the girls had a trip of their own, and Clay finally was able to begin the process of letting go of his dead wife.
The boys - Nathan, Mouth, Skills, Jamie and his friend Chuck - are going camping, but Julian is a tad bit hesitant as he's not a guy's guy. "I don't have homies," he tries to explain to Brooke. But with his lame camping references and his extreme over-packing, Julian is ready to join the others on the outdoor adventure. After some zip-lining and scary stories, the little ones go to bed. The rest debate the best sports movie of all time, and while Nathan says an obvious Field of Dreams, Mouth comes out with Coach Carter - a reference to the film that Tree Hill writer/producer Mark Schwahn wrote. Julian, who had all the funny lines this episode, contributed his pick of Cool Runnings, followed by him singing the famous, "Jamaica, we have a bobsled team," from the movie. The conversation quickly turns R-rated when Skills reveals that Nathan and Brooke made a sex tape in high school. Julian, rightfully pissed and inquisitive, finally shuts up when Nathan tells him, "I lost my virginity to my sister-in-law, you don't think that makes Thanksgiving a little awkward from time to time?"
The girls, meanwhile, have a little fun of their own. Quinn makes Taylor's famous brownies but neglects to tell Haley that what makes them special is the pot that it's them. By the time Haley has chowed down, and Brooke has joined her, Quinn lets the cat out of the bag. Brooke becomes paranoid, while Haley turns into Chatty Cathy. And to make the night even more outlandish, Quinn calls on her personal psychic Zelda to make a house visit. Of course Zelda, who's clearly a quack, only makes things worse by letting Brooke believe Julian likes Alex and that Haley's house, where they're all spending the night, is haunted. After she spews out a spell on her way out the door, Haley and Brooke try to find out who's amongst them in the house.
The Dan/Rachel plot only got stranger as we saw a sequence of nightmares that Dan had about his heart transplant. He begins to see the boy from his dream in the audience during the taping of his show and literally collapses on stage at the sight. When he has another dream with the boy standing in front of him bleeding, he asks his wife Rachel where she got the heart he was given. Apparently, it was from a boy on life support, whose family she paid to pull the plug. So this whole year Dan never asked how he suddenly got a heart? He starts to freak out on Rachel that the boy could've gotten better and they paid for his death, but Rachel reminds him, "I'm not a murderer, Dan, that would be you." She always manages to put him in his place. Later that night, Dan tells Rachel he wants to go on vacation, but the locale isn't quite what she's expecting: "Tree Hill, I want to go home," Dan says.
Clay, who stayed home from the camping trip, is still seeing and speaking to his dead wife, Sara. She's still trying to convince Clay that being being miserable isn't going to help and that he should open up to Quinn who he clearly likes. Just like that, there's a knock on the door. When Clay opens it, Quinn is standing there and asks to come in. Once again, Clay says, "no," this time adding, "When are you gonna get it Quinn? You can't be here. You need to go." But when he turns away , he sees Sara is gone and so he decides to go after Quinn. He jumps in her car and says, "Her name was Sara and I loved her. She was my wife, she died, I've never told anyone up until now." Clay finally opens up to Quinn and the two sit on the beach talking all night long.
Back at the camping trip, Julian and Nathan finally begin to bond over fatherhood. Julian admires how great Nathan is with Jamie and wonders if he could ever be ready for him and Brooke to have children. "Your dad was a dick and somehow you turned it around for your own son," Julian says. Nathan admits that "being a father is 95 percent instinct" and tells Julian his instinct are good. And then they pound. "That was my first ever fist bump," Julian says. Again he has the greatest lines of the episode.
What did you think of this week's One Tree Hill?