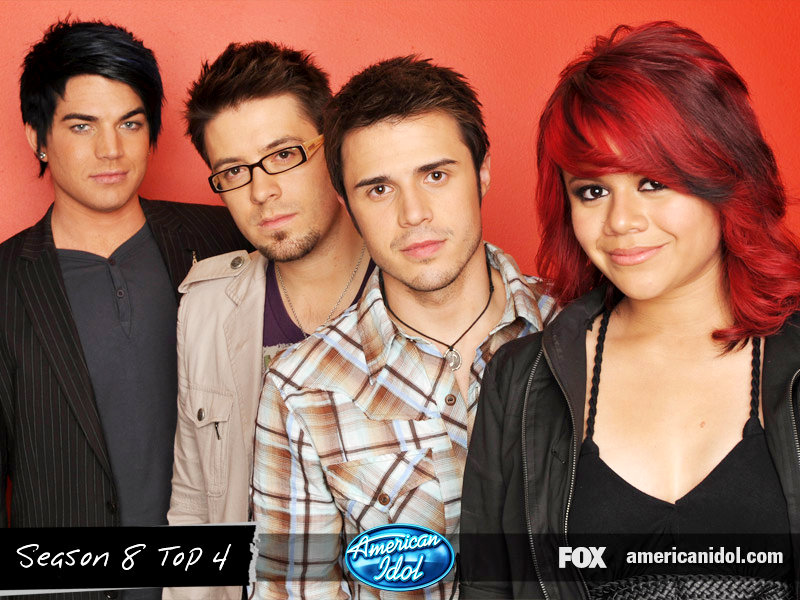 It's time to do some rock and roll on "American Idol". Mentored by ex-guitarist of Guns N' Roses, Slash, each of the top 4 will sing a solo and a duet piece. A short recap of what happened on the result show last week where Adam Lambert was put on the bottom three was played before the show began.
And viewers get the first taste of rock through Adam's rendition of Led Zeppelin's "Whole Lotta Love". Slash advised him not to improvise too much and Adam did not. Randy Jackson said he can definitely be a rock star and none will look at him as mere theater performer. Kara DioGuardi called him a "rock God". Simon Cowell said the piece is one of his favorite performances throughout the season and it will be difficult to top that.
Allison Iraheta was next with Janis Joplin's "Cry Baby". Randy did not like the song choice, saying that she picked the wrong Janis song. Kara agreed with Randy while Paula Abdul gave a lift up saying that Allison should be cast in a Janis Joplin biopic. Simon loved the vocal but thought it was too "sound-alike". Allison defended her choice of song and Simon gave her an endorsement "I like the fact that you're standing up for yourself."
The solo piece is intercepted with the duet by Kris Allen and Danny Gokey who sang "Renegade" by Styx. Both Randy and Kara liked the harmonies but Kara thought the two guys did not add up to the title of "renegades". Simon said that Danny outshone Kris in a way.
Kris then followed the performance with his solo piece of The Beatles' "Come Together". Randy said that rock wasn't exactly Kris' cup of tea but the guitar playing was still "cool". Kara hated the performance because Kris looked like he was trying too hard. Simon summed it up, "It was like eating ice for lunch."
Danny took over the stage with Aerosmith's "Dream On". Randy thought it was not his genre and it was just "all right". Kara said, "I think you took our swagger comment a little too far tonight," while Simon made it short by saying that he will still be safe. Danny got all defensive about the genre after the judges' comments.
Time for the duet between Adam and Allison. They sang "Slow Ride" by Foghat and got praised by the judges. Randy jotted the idea that they should do a duet in their future albums. Paula said, "You two are like the perfect marriage!" Simon said it was the better duet and told Adam that he might have saved Allison from elimination.
The result show on Wednesday, May 6 will feature performances by No Doubt, DAUGHTRY and Paula Abdul herself.