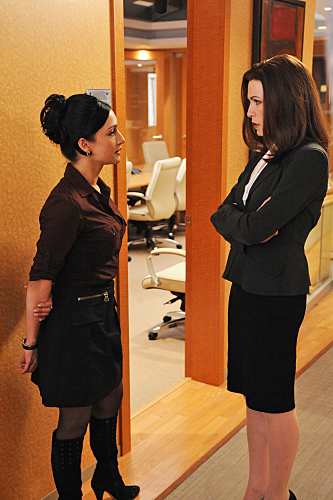 The name of this show is The Good Wife, not The Good Cary, so it wasn't exactly a surprise that Alicia landed the job of junior associate at Gardner and Lockhart.
But events from "Unplugged" showed the lengths Alicia was willing to go to in order to assure herself of this gig, while setting things up for a fascinating second season.
Just think of the possibie storylines the show can now mine in the future:
* Cary as an adversary of Alicia and the firm. Not a one-dimensional villian, mind you, but a well-layered, understandable nemesis who shows up now and again.
* Eli as a regular, important part of the show. We already knew Alan Cumming had been made a series regular - but now we know why and how his character will fit into both Alicia's world and Peter's world - and we couldn't be more excited about that.
* Alicia as an "enthusiastic" part of Peter's election team. We put enthusiastic in quotes, of course, but quid pro quo, Alicia. You'll have a lot to do with your husband going forward, whether you want to personally or not.
To Read More Click Here.