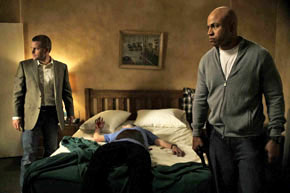 The second story arc of "Legend" in "NCIS: Naval Criminal Investigative Service" has been given a preview. In Los Angeles, Special Agent Callen goes undercover to try to catch a terrorist cell.
OSP psychologist Nate Getz discovers the startling truth about Gibbs and Special Agent Lara Macy's relationship. Meanwhile, with the appearance of Mossad agent Michael Rivkin, Tony is forced to question Ziva's loyalty to NCIS.
The May 5 episode titled "Legend Part 2" is part of the backdoor pilot provided for the spin-off. Should the response is well, then CBS will order the pilot for 2009-2010 TV schedule. Among the stars are Chris O'Donnell, LL Cool J and Louise Lombard who play Callen, Sam and Clara respectively.
"I didn't want fans of the show feeling alienated by having to sit down and watch these new characters they knew nothing about," executive producer Shane Brennan told TV Guide about the backdoor pilots. "That's why I made it a two-hour episode, so that we could integrate the new characters into the story and still give people their dose of NCIS."
To Watch The Preview Click here.