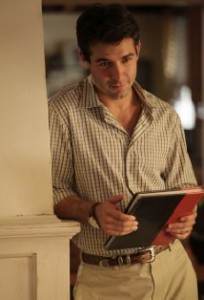 The biggest question following Lone Star's stellar pilot episode wasn't whether it could sustain the momentum it generated, but whether it could do enough to pick up the pilot's flagging ratings. If viewers weren't checking out this excellent character drama initially, would 1.02 do enough to make a difference?
While we won't know about the ratings until tomorrow, unfortunately there was a slight drop off in terms of story quality. Whereas I couldn't get enough of the pilot, 1.02 dragged a bit, with a somewhat confusing storyline as Bob (James Wolk) tries to pull one over on Clint (Jon Voight) (albeit somewhat legitimately). When the rules of the con aren't clear, especially when it's not even really a con, you're going to lose viewers.
But Lone Star isn't really about the cons or the schemes to begin with. It's about the American dream of family. Of what fathers and sisters and brothers are supposed to be like. About the weddings we're supposed to have. And how we'll risk anything to keep that dream alive, even when we already know it's a lie.
To Read More Click Here.