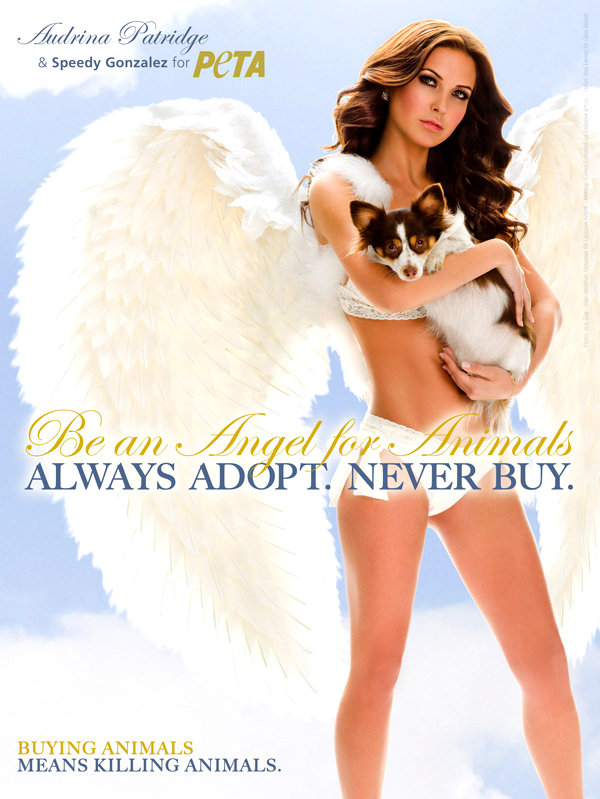 Reality TV star Audrina Patridge lends her famous face and celebrity status to People for the Ethical Treatment of Animals (PETA) by appearing in the organization's new ad aimed to promote animal adoption. Appearing in a white bikini and angel wings, "The Hills" actress is photographed holding her rescued shelter dog, Speedy Gonzalez.
"Be an Angel for Animals. Always Adopt, Never Buy," read the tagline that accompanies Audrina's shot. "Buying animals means killing animals ... Each year, six to eight million unwanted dogs and cats are turned in to shelters, and half are killed because there aren't enough good homes."
Speaking on her participation in the campaign, Audrina tells PETA during the photo shoot, "I wanted to get involved with PETA because I've always been passionate about animals, and I think this is a great way to make people and all my fans aware of all the animals that need a home. And a lot of people go to pet stores and breeders to buy their animals, but you should adopt, so go to an animal shelter and rescue a dog."
Encouraging potential pet owners to adopt homeless animals rather than purchasing them from pet stores, Audrina also urges pet owners to spay and neuter their cats and dogs to prevent unwanted births. She will have her PETA ad unveiled in Los Angeles on Wednesday, April 22.