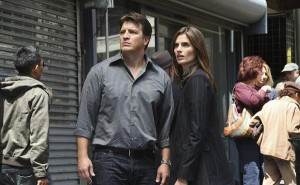 On this episode of Castle, Beckett and Castle investigate the murder of a bail bondsman. But when they find a coded document at the crime scene, Castle becomes obsessed with unlocking the mystery. Meanwhile, Castle comes to grips with Alexis entering the "wild child phase," which Castle fears greatly after learning about a few of Beckett's choice behaviors when she was a teen. And speaking of Beckett's past, we meet Michael Royce, Beckett's former training officer who may have been more than just a partner.
This episode's case was a twisty mess that honestly didn't hold my attention as much as others in the past have. When bail bondsman Deion Carver ends up dead in his office, the only clues left behind are a partial footprint in blood and a bug that Beckett discovers hidden on Carver's phone. Things really get interesting, however, when a piece of paper covered in symbols is found stuck in the victim's sock. Castle instantly begins trying to break the code while Beckett, as usual, sticks to the evidence.
To Read More Click Here.