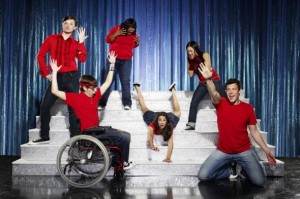 Glee will be returning with new episodes on April 13 (see when your other favorite shows return in 2010) and Glee creator Ryan Murphy shares some upcoming spoilers during an E!Online interview.
Murphy was very surprised by the fans' love for the Rachel-Puck relationship. He reveals that Rachel will be dealing with several men in the second half of season one, including Finn, Puck and newcomer Jonathan Groff's character (who also happens to be Lea Michele's former Spring Awakening co-star).
Murphy also reveals that Quinn will be having her baby before the end of the season, but chances are it won't happen on stage at Regionals.
Don't count Sue Sylvester out because she departed to Florida at the end of the last episode. Sue will be back and might even be in cahoots with Vocal Adrenaline, according to Murphy. He promises she'll continue to be funny and wicked and evil in the second half of the season.
Murphy claims that what they're dubbing the "Madonna episode" will be HUGE. Ten Madonna songs will be sung during the episode. And don't expect throwaway songs they will all be big production numbers.
Kristen Chenoworth will be returning to the show in 2010 (although we already knew that). But what we didn't know is that we should be expecting some other familiar, famous faces to pop by. Murphy doesn't reveal who, but he says "Childhood idols of mine who I got on the phone, and I was literally like [freaking out], but they love the show and want to do it."