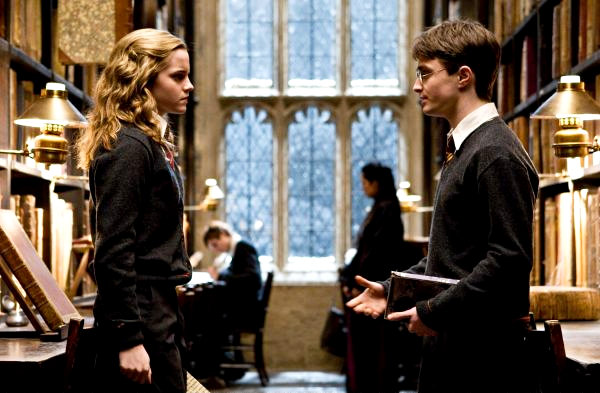 Hours after picture of Hermione Granger, Harry Potter and Ron Weasley in the boys' dormitory was outed, another photo from "Harry Potter and the Half-Blood Prince" made its rounds. This time, the fresh image, found via Oclumencia, captures Hermione and Harry standing against each other and exchanging words in the library at Hogwarts.
"Harry Potter and the Half-Blood Prince" will center its story at the time when Voldemort's grip on both the Muggle and wizarding worlds is tightening. With Hogwarts no longer being the safe haven it once was, Dumbledore begins to prepare Harry for the final battle that he knows is fast approaching. Bringing in his old friend and colleague Professor Horace Slughorn, he works together with Harry to unlock Voldemort's defenses.
It features the likes of Daniel Radcliffe, Emma Watson, Rupert Grint, Michael Gambon, Tom Felton, Bonnie Wright, Helena Bonham Carter and Robbie Coltrane among others. Rated PG, it will be opened in theaters across the U.S. on July 15.
On another "Harry Potter" related news, Rhys Ifans who has been tapped for "Harry Potter and the Deathly Hallows: Part I" as well as "Part II" talked about his character in an interview with BBC Radio. Of his role, he said, "I play Xenophilius Lovegood, a wizard who is the father of Luna Lovegood, one of Harry Potter's friends. That's all I can really say because I haven't read the book!"
The actor who admitted that he is not a big fan of the series shared also on the filming of the seventh book. "There's been so much money thrown at the project, with there having been [six] other films," he said. "They're filming up in Leavesden near London in an old Rolls Royce airplane engine factory."