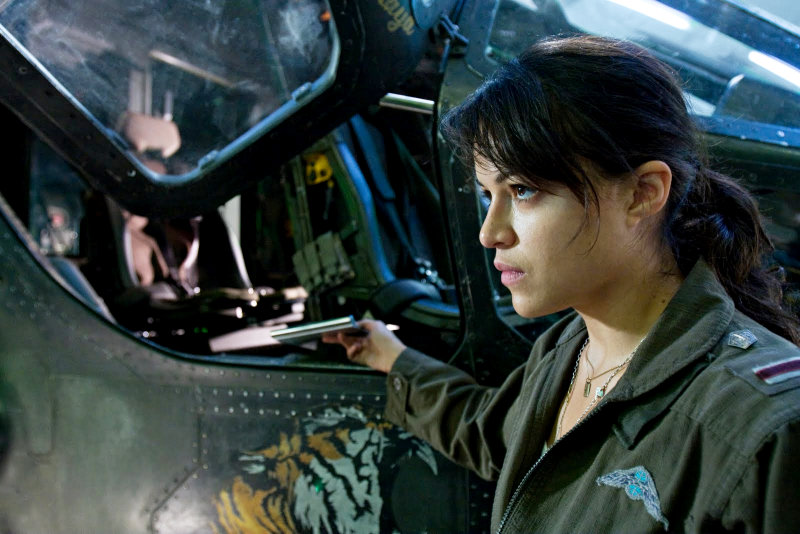 Another take at Michelle Rodriguez in "Avatar" has been exposed through a brand new photo. Uncovered by MarketSaw, the image sees the Ana Lucia Cortez of ABC's series "Lost" as her character, the retired Marine pilot Trudy Chacon. In the picture, she is captured standing next to an aircraft.
While Rodriguez has kept a tight lid on her character's part in the movie, she has previously shared how she got involved with the project. In a group interview while promoting "Fast and Furious", the 31-year-old recalled as quoted by Sci Fi Wire, "James saw me in Girlfight. It's that movie. It's the only movie I was ever a lead in, and I guess I did a good job, because people watched it and liked it."
"Avatar" is a live action movie directed, co-produced and written also by the "Titanic" helmer James Cameron. It lines up Sam Worthington as Jake Sully, Sigourney Weaver as botanist Dr. Grace Augustine, Stephen Lang as Marine Corps Colonel Quaritch, Zoe Saldana as Neytiri, and many others.
This 20th Century Fox film follows an paraplegic ex-marine as he is thrust unwillingly into an effort to settle and exploit an exotic planet rich in bio-diversity, who eventually crosses over to lead the indigenous race in a battle for survival. It is set to hit the U.S. theaters on December 18.
Hours earlier, "Avatar" has been hit with a rip-off controversy as Io9 came up with a report questioning its originality. The site claimed that there are too many similarities between this James Cameron's feature project and a 1957 novella by Poul Anderson entitled "Call Me Joe" from the wheel-chair bound lead character to the artificial created body.