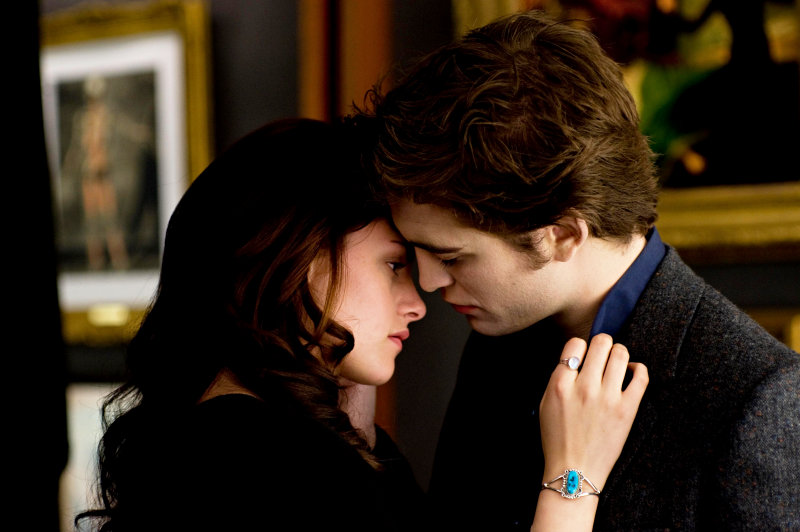 Two more videos have been found for the highly anticipated "The Twilight Saga: New Moon". One is an extended version of the kissing scene first teased in the first teaser trailer, and the other one is a Wolf Pack sizzle reel. The kissing clip was shown at The CW's Movies to Talk About, while the featurette came from MSN.
The sizzle reel takes viewers to the behind the scenes of this "Twilight" sequel. It offers a look at the making of the wolves with commentary from director Chris Weitz, the special effects crew, as well as some of actors portraying the wolf pack's members. Bella's depicter, Kristen Stewart, also shares on what the wolves bring into the vampire saga.
In other news, MTV has presented a fresh photo from the Italian set of "New Moon", exposing Weitz giving direction to Stewart. Of the filming on the European location, the director said, "Wow am I glad we were able to shoot there. We went to about 12 different hill top towns in Tuscany which was both delightful and exhausting because it had to be done relatively quickly. Montepulciano had the most symmetrical main square that I could find so that was the winner for that reason."
In the interview with MTV, Weitz also spoke about Dakota Fanning's as Jane. "She's never really gotten to play a bad person before, probably because she is a very good person. She is really a lovely young person. But I think she had some fun playing, really, the most evil of all the bad guys," he said. "[Jane]'s bad news. Very bad."
"The Twilight Saga's New Moon" is penned by "Twilight Saga" screenwriter Melissa Rosenberg. Robert Pattinson and Taylor Lautner return as Edward and Jacob respectively. Before the movie opens wide in the U.S. on November 20, a 15-city cast tour will take place from November 6 through 19.