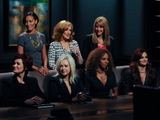 In the new third season of Celebrity Apprentice, there's something - or more precisely someone - for every type of viewer. And a group this eclectic is sure to set off some pretty big fireworks - both good and bad. Let's get started, shall we?
Obviously, this is "The Donald" that we're dealing with, so after sharing a few niceties with the cast, it's straight to business. First, the teams are divided into girls against guys, and each team gets to pick the other's team leader. Second, both teams must come up with a name.
For team names, the girls pick Tenacity and the guys pick Rocksolid. I, like Trump, prefer Tenacity. As for the team leaders, the ladies single out rocker and Rock of Love star Bret Michaels, knowing the poor guy has had one hour of sleep after flying in straight from a concert in Mexico. They also know he may not be most the organized member of the men's team. The men follow suit and pick Cyndi Lauper. They tell Trump it's because they want to eliminate a strong player quickly, and Cyndi is strong because she holds lots of connections in New York. Secretly, they think she's too scattered and lacks the focus to be an effective leader. I would think the same thing, but Cyndi and Bret are both very dynamic personalities, so they may come out and surprise everyone.
To Read More Click Here