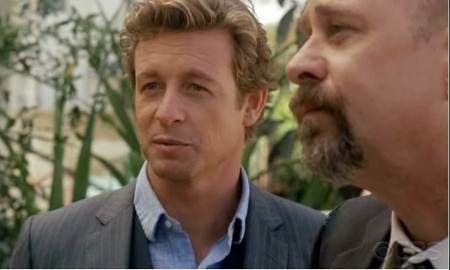 The big news last night on The Mentalist episode "Red Bulls" is that Patrick Jane (Simon Baker) and Agent Sam Bosco (Terry Kinney) work together on a case. The episode begins with a tense scene involving Bosco's team, busting into an abandoned house they believe houses a kidnap victim and her captors. Guns drawn, they rush into a crowded room populated by Agent Teresa Lisbon's (Robin Tunney) CBI team, including Jane. After a tense moment of adrenaline and demanding to know what the other is doing there, Jane finally gets them all to lower their guns.
Turns out Lisbon and her team were asked to investigate a report of a dead body in the abandoned house. The body turns out to be a young man who had been kidnapped years earlier. CBI boss Minelli (Gregory Itzin) agrees with Jane that the coincidences are too great between the two kidnap cases, and orders the two teams to work together. Bosco is, of course, furious at having to work with Jane and the hostility extends through both divisions.
Bosco, Jane, and Lisbon visit the family of the kidnap victim, Mia Westlake (Marissa Skell). The only relative is Mia's sister Verona (Meredith Monroe) and her husband. The Westlake sisters have a considerable fortune they inherited from a wealthy grandfather. Verona is the self-professed screw-up, and isn't sure how to handle the kidnapping. While Lisbon and Bosco ask the usual questions, and try to find a connection between Mia and the first kidnap victim, Jane observes the couple and their lawyer. He also finds their baby crawling behind the furniture, and the nanny is hastily called in to retrieve her.
To Read More Click here.