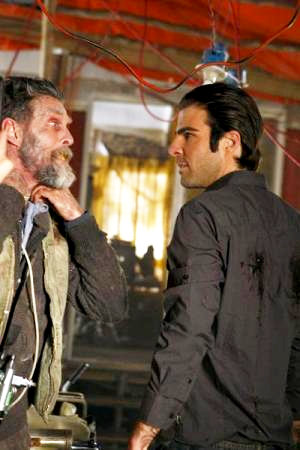 It looks like the new episode of "Heroes" will be a race against time, involving the fate of the Capitol. In the preview, Matt Parkman is bound with a jacket strapped with bomb and Nathan is there to help him to defuse it while The Hunter holds the control.
The episode will also expose more about Sylar and his biological father who is played by John Glover, but the reunion proves to be what he least expected. There is still no clue yet whether this new character will be a hero or another villain.
Elsewhere, after receiving a tip from "Rebel," Claire must decide if she will help her sworn enemy, Eric Doyle, evade capture. Meanwhile, as The Hunter plans to uncover the Petrelli family's secrets and take control of Nathan's operation, Matt finds himself in the spotlight and on the verge of leveling Capitol Hill.
Also, on-set photos have revealed that twin babies will play the role of a baby in at least 5 episodes. This baby character is reportedly the offspring of Matt and Janice.
Called "Shades of Gray", the episode airs March 9. The show will then take a one-week break to return on March 23 with "Cold Snap".
To Watch The Preview Click Here.