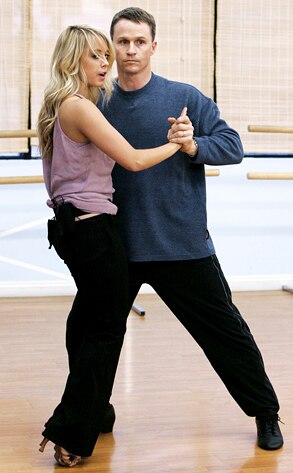 That nasty Dancing with the Stars curse strikes again.
Only, this time, it's not so bad. Ty Murray just has a colorful shiner.
After taking a beatdown from the judges in Monday's episode and sweating out his spot Tuesday's elimination, the rodeo man was rehearsing with partner Chelsie Hightower when he was knocked in the eye with her microphone pack.
''What happened is that I threw Chelsie into the air during a group rehearsal and her mic pack fell off and hit me in the eye," the cowboy said in a statement. "It was bleeding for a little while and is slightly black and blue but I kept ice on it and it won't have any effect on our dancing. It's not a big deal to me because in bull riding you see that from time to time but I guess people aren't used to seeing a little blood in the ballroom."
The ballroom babes and bros are used to hearing snap, crackle and pops though...especially this season.
Murray's wife, Jewel, had to back out of the competition before it even started when she fractured tibiae in both of her legs. Nancy O'Dell also had to bail for a torn meniscus. Gilles Marini will need shoulder surgery following his run on the show. Reject Holly Madison's ribs were roughed up, and Steve Wozniak had to shake it with a cast on his food.
Not unlike Murray, Steve-O 's injury came courtesy of that clunky mic pack. The prankster was temporarily sidelined when he flipped and landed on the electronic still attached to his back (note to DWTS producers: Find a better way!).