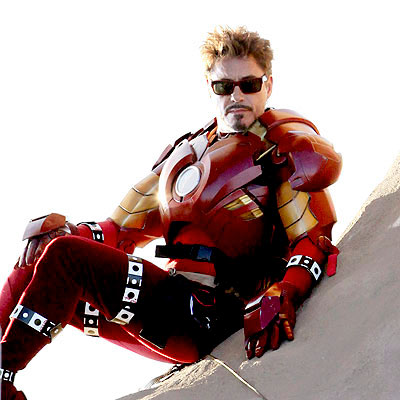 Another take at Robert Downey Jr. in "Iron Man 2" has been shared. If the first one was from the "Iron Man" sequel's first official photo, this second picture came from its Los Angeles set and was brought into attention by People. The snap capturing Downey Jr. in parts of his Iron Man suit was taken on Wednesday, May 6, when the leading man was reportedly shooting a scene.
The gear Downey wears in the photo is said to be the new Iron Man suit. Of the new suit, Vic Holtreman of Screenrant wrote, "The gauntlets are much beefier on top of his hands, there are some gold highlights in the rib cage area and the chest piece looks redesigned as well. Looks like the tricep area is beefed up along with the shoulders, too, giving the impression (to me, anyway) of a more powerful armor."
"Iron Man 2" has started its principal photography Monday, April 6. Director Jon Favreau is back once again serving as the helmer for the superhero adaptation, while Robert Downey Jr. and Gwyneth Paltrow reprise their roles as Tony Stark/Iron Man and Pepper Potts. The two will be joined by Don Cheadle who will take on Colonel James 'Rhodey' Rhodes in place of Terrence Howard, Scarlett Johansson who will portray Black Widow, and Mickey Rourke who has been signed to play a Russian villain character. The film is set to hit U.S. theaters on May 7, 2010.