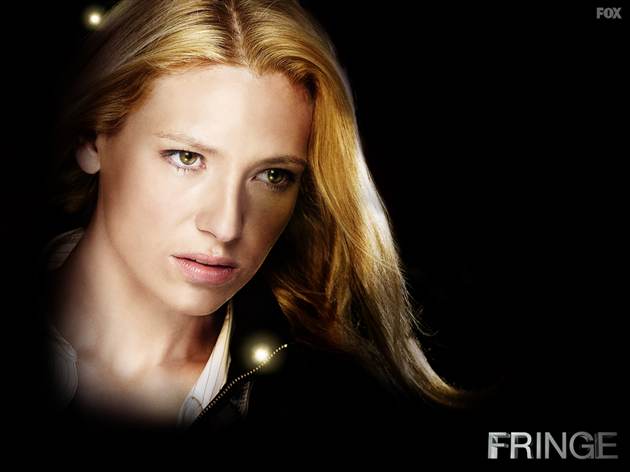 Think that the writers of Fringe have forgotten all about Walter's medical experiments on agent Olivia Dunham as a child? Not a chance. Though we haven't really focused on her abilities since season one's "Bad Dreams," we're certainly going to during the last episode of February, "Jacksonville," which will focus on Olivia's trip back to her childhood home of Jacksonville, Florida, where she'll develop a strange new power, next week's issue of TV Guide is reporting.
It's a power that could rip the team apart - and probably will.
We've seen the power before, though Olivia wasn't the one exhibiting it. Earlier this season, in "Momentum Deferred," we met a woman. If that's not specific enough for you, I'll clarify: she was one of Walter's old test subjects, and also an old flame of his. Due to Walter's experimenting, she was able to detect people who were from "Over There," the alternate universe that has been causing all of our heroes' problems. She was supposed to use her power to help find the supersoldier from Over There, but she also detected someone who was from the other universe: Peter.
Peter had been snatched from Over There by Walter, who was reeling from the loss of this world's version of Peter. We witnessed that kidnapping in "Dream Logic," though from the severely distorted version of Peter's dreams. Peter himself is unaware that he is from Over There. Walter is the only one, aside from his old subject, who knows.
That is, until Olivia gets her power in Jacksonville. She'll see Peter for who he really is, and there's going to be some confusion - and quite a bit of explaining. "Walter has some hard-core explaining to do!" shared Dunham's portrayer Anna Torv. Unfortunately, that 'splaining will have to be left until after we return from the seven-week hiatus Fringe will undergo in order for the new series Past Life to air. Following "Jacksonville," the next episode will air on April 1. It's a long wait, but the cliffhanger above makes it all worth it. And so does this little hint from executive producer Joel Wyman:
"One could think that Peter's arrival over here initiated these bad feelings and the state of what is going on over there. The episode we come back with (in April) will answer all of these questions."
Well, April? We're waiting…