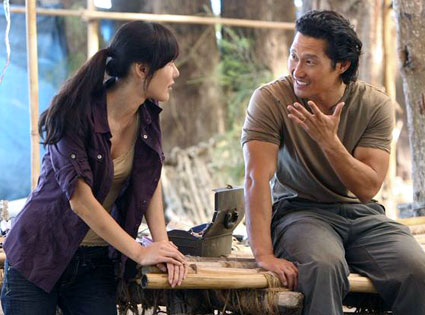 Will Jin and Sun reunite?
Is Charlotte a goner?
And which totally creepy long-lost Lost friend is going to reappear?
These are a few of the burning questions we'll tackle in today's roundup of exclusive TV scoop, along with the latest on Gossip Girl's Nate and Blair hookup, an Officemate who is coming back (for better or worse!) and you know we have to tackle that kiss everyone's talking about on Grey's Anatomy...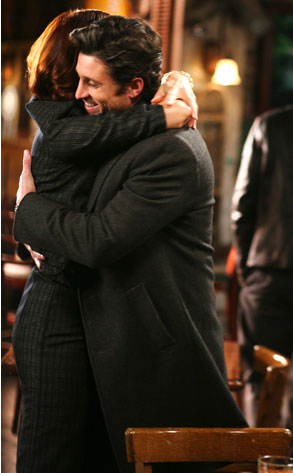 Kate in Wacahoota, Fla.: I'm tired of hearing about the Addison/Derek kiss! Tell me it's not going to happen. If Meredith and Derek break up over this, I'm out. Shonda Rhimes is a liar.
It does appear there is a kiss in the promo, but as I said before, there will be no romance between Addison (Kate Walsh) and Derek (Patrick Dempsey). My source said "your eyes are playing tricks on you." So fear not! And for the love of nonlovers with good hair, keep the pins away from your Shonda voodoo doll, OK?
Bella in Austin, Texas: Do you know if David will return with Donna when she heads for 90210?
There's a chance Mr. Silver (Brian Austin Green) will eventually head back to the infamous ZIP code. He's currently in Japan, but Tori Spelling tells us, "His lady Donna is in L.A., so maybe he'll come on over." For you hard-core original 90210 fans, don't worry, David's not hitting the speed anymore. He's clean and "he's a papa now," adds Tori.
Sam in Edmonton, Canada: Has there been talk of a sequel to Dr. Horrible?
Neil Patrick Harris tells me: "Joss wants to do more of it, but he's a very popular man at the moment." (Dollhouse premieres this Friday on Fox, in case you hadn't heard.) Still, NPH says he's totally down to do the sequel-assuming Joss wants him back. "I hope they don't recast it with Tobey Maguire. That would be a buzz kill."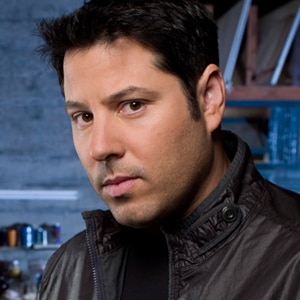 Randall in New York: Any chance for a HIMYM musical episode?
Neil tells me he's pushing for it: "We're down to do the big Broadway version of How I Met Your Mother." But Alyson Hannigan is secretly hoping it doesn't happen: "I still can't sing!" Whatever! Neither can Sarah Chalke, but that didn't stop Scrubs from doing its award-winning musical ep. And something tells me Lily could be an excellent rap artist.
For More Click Here.